– Mã sản phẩm : TS1400D
– Sản phẩm bảo hành  12 tháng 1 đổi 1 .
– Giao hàng tận nơi siêu tốc trong nội thành TP.HCM miễn phí .
– Giao hàng toàn quốc qua chuyển phát nhanh trong 24h .
– Thời gian giao hàng từ 8h00 đến 17h các ngày trong tuần.
Thông số cơ bản Nas Buffalo TS1400D( HÀNG NỘI ĐỊA NHẬT BẢN - MADE IN JAPAN) :

- CPU 1.2 GHz dual-issue ARM processor, 512 MB DDR3
- USB 2.0 port with accessory support
- Hot-swap SATA hard drives
- Hot-spare
- RAID 0/1/JBOD (Individual Disks)
- Active Directory integration
- Disk quota support
- Scheduled or real-time replication to other TeraStation™ devices
- 11 Licenses of NovaBACKUP® Buffalo Edition (1 server and 10 workstations) .
Powerful CPU:
TeraStation 1400 features the dual-issue 1.2 GHz ARM processor, providing exceptional performance during file transfers and everyday NAS functions at an unbeatable value.
Business Class NAS Features
File Sharing
Secure file sharing from a central location with cross-platform support and access restrictions.

Client/Server Backup
Backup all mission-critical data for peace of mind
- 11 licenses of NovaBACKUP Buffalo Edition (1 server and 10 workstations)
- Time Machine support

Replication
Replicates data between two TeraStations. In the event of a TeraStation failure, simply unplug the Ethernet cable from the malfunctioning TeraStation and plug into the backup TeraStation for service restoration.
Scheduled backup
Scheduled backup can be set at a specific data and/or time.

Many-to-one TeraStation Backup
Backup all shared folders in multiple TeraStations on a single TeraStation.

Supports prompt recovery when NAS is replaced or fails
"Save and restore settings" after a failure and when purchasing multiple TS1400 units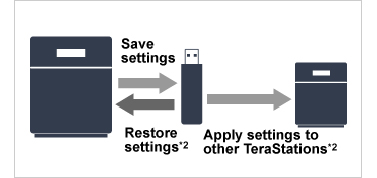 You can connect a thumb drive or other USB memory*1 to the TS1400 and save the settings to the USB memory. Use this feature to restore the settings from USB memory after a failure or more easily program the settings when purchasing multiple TS1400s.
*1: USB sold separately; not included with TeraStation.
*2: Prior matching of disk configurations/formatsxxx may be required.
Hot-swappable hard drive
The inernal drives are hot-swappable,so they can be replaced in the event of a hard drive failure, with no need to switch off the power. It is designed to minimize effects on the system when disks are replaced.
The RAID array absent the failed hard drive allows the system to be used as usual, even while the drive is being replace,so there is no extra obstacle to normal business operations.

Hot Spare
When a drive fails, the hot spare function automatically starts up the spare hard disk to maintain redundancy. This protects your valuable data.

UPS Support
Supports devices from Schneider Electric and Omron.
Select from a variety of RAID modes for failure resistance, speed, and capacity
Supports RAID 6/5/10/1/0. Features powerful data protection features
This NAS is equipped with four internal hard disk drives. In addition to the normal operating mode, there are five other RAID modes to select from, according to your needs. The unit includes modes for protecting system backup data, work data, photo and video data, and other important data from unexpected drive failure.
TeraStations offer a wide variety of modes for protection of system backup data, business data, photo and video data, and other important data in the event of a drive failure. In particular, models with six or more drives support RAID 51, which features mirroring (duplication) of RAID 5 with RAID 1, and RAID 61, which similarly combines RAID 6 and RAID 1. This allows you to build an even safer data protection environment.

RAID Mode Comparison Table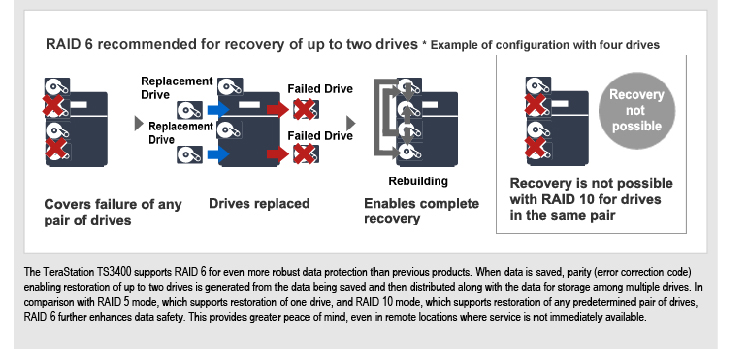 *1: Configurations comprise an even number of drives.
* The TS1400D is set to RAID 5 mode when shipped.
* While RAID 6/5/10/1 are effective for data protection, this does not mean that complete protection is guaranteed. Please be sure to back up your important data.
File Sharing
Active Directory
Manage access restrictions with user account information from the Windows Active Directory server
Settings such as read/write access and user/group-based access authorization can be tailored to your needs
DFS Namespace support
Disk quota support prevents users/groups form consuming too much disk space
Hide specific folders for limited access
Offline Files feature enables folder synchronization to/from your laptop for offline accessibility
WebAccess for Business
WebAccess for Business smartphone app
Free app for Android, iPhone, and iPad, to access and manage the TeraStation over the Internet. Configure your TeraStation from the palm of your hand!

Hardware Overview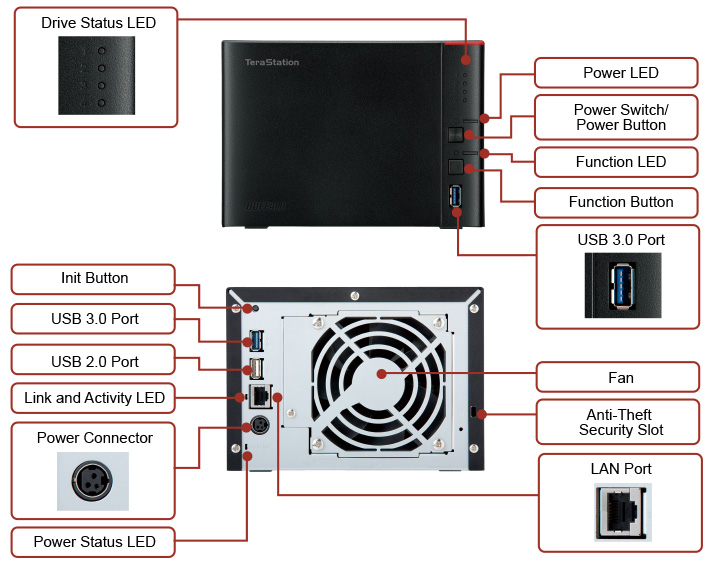 Dimensions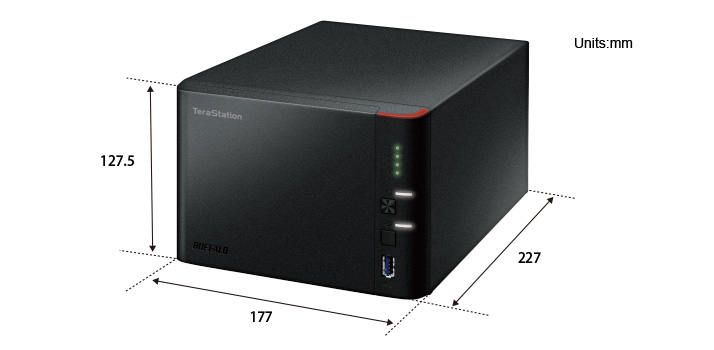 Thông số kỹ thuật chi tiết Nas Buffalo  TeraStation TS1400D:
Model
Hardware
| | |
| --- | --- |
| Type | Desktop |
| OS | Linux Original |
| CPU | Marvell ARMADA 370 ARM (Dual Issue) |
| Clock | 1.2GHz |
| Memory | DDR3 512MB |
Internal Hard Drives
| | |
| --- | --- |
| Number of Drives | 4 |
| Drive Interface | SATA II |
| Supported RAID Levels | 0, 1, 5, 6,10 |
| Drive Capacity | TS1400D0404(4TB) TS1400D0804(8TB) TS1400D1204(12TB) TS1400D1604(16TB) |
LAN Interface
| | |
| --- | --- |
| Standard Compliance | IEEE802.3/3u/3ab |
| Speed and Flow Control | 10/100/1000 Mbps (Auto Sensing) |
| Number of Ports | 1 x RJ-45 (Auto MDIX) |
USB Interface
| | |
| --- | --- |
| Standard Compliance | USB 2.0 / USB 3.0 |
| Connector Type | A type |
| Number of Ports | 1 x USB2.0 / 2 x USB3.0 |
UPS Interface
| | |
| --- | --- |
| Standard Compliance | USB A type |
| Number of Ports | 1 |
Other Interface
Key Feature
| | |
| --- | --- |
| iSCSI | - |
| IP Camera | - |
| Redundant Power Surpply | - |
| Hot Spare | Y |
| Hot Swap | Y |
| Replication | Y |
| Failover | - |
| Amazon S3 | - |
| Port Trunking | - |
| Disk Quota | Y |
| Virus Scan | - |
Protocol Support
| | |
| --- | --- |
| Networking | TCP/IP |
| File Sharing | CIFS/SMB, AFP, HTTP/HTTPS, FTP, SFTP, NFS |
| Directory Integration | LDAP, Active Directory |
| Management | HTTP/HTTPS |
| Time Synchronization | NTP |
Other
Client OS Support

Windows® 8.1 / 8 / 7 (32/64-bit) / Vista® (32/64-bit)/ Windows® XP
Windows Server® 2012R2 / 2012 / 2008 R2 / 2008 / 2003 R2 / 2003
Windows Server® 2000
Mac OS® X 10.10 / 10.9 / 10.8 / 10.7 / 10.6 / 10.5 / 10.4

Power Consumption

28W (Average), 150W (Max)

Dimensions (LxWxH, )

227 x 87 x 127.5

Weight

5.4 kg

Operating Environment

5-35°C, 20-80% (non-condensing)

Power Supply

AC 100-240V, 50/60Hz
Tags: Nas Buffalo Terastation TS1400D,Buffalo Terastation TS1400D,nas buffalo TS1400D,nas buffalo TS1400D chính hãng, ổ cứng mạng nas buffalo TS1400D,nas buffalo TS1400D tphcm,nas buffalo TS1400D hcm, thiết bị lưu trữ nas buffalo TS1400D,nas buffalo TS1400D chính hãng